Company history
November 1996: With a background in the food industry and more than 10 years' experience as a fitter and project-oriented supervisor at two sector heavyweights, APV Pasilac and Dansk Mejeri Elektronik, Peter Østergaard decides to found Hobro Rustfri Procesteknik A/S.
By the year 2002, the facilities cannot cope with the demand and the company and its 10 employees move to new premises, with a 1,000 m2 workshop at the Business Park in Hobro.
2006: Hobro Laserteknik is founded as a sister enterprise, with production under the same roof.
2009: The two companies now employ 25 people.
2013: After a couple of difficult years in the wake of the financial crisis, business picks up again. A decision is made to separate the two lines of production. Both companies are now very busy and space becomes an issue. In November 2013 Hobro Rustfri Procesteknik moves to new facilities in Onsild, close to motorway Exit 36. Hobro Laserteknik can now spread out to cover the entire production facility at the Business Park. This gives both ventures room for further growth, enabling them to tackle new tasks. One of the added benefits at Onsild is the large assembly hall with its capacity for the construction of prototypes, as well as testing facilities.
2014: Steps are taken to introduce Best Practices to production.
2015: Hobro Rustfri Procesteknik builds the world's largest membrane filtering plant, which is destined for a dairy in New Zealand.
2015: Both companies receive DS/EN1090-1 certification. It is now possible to produce construction steel, and synergies between the two sister companies become even more decisive as sales parameters.
2016: Development is underway at the two companies. A decision is made to 'move in together'. A new 2,200 m2 production hall for Hobro Laserteknik Onsild is planned at the Onsild site, including sheet storage and a shared administrative building.
2017: Hobro Laserteknik moves to Onsild and administration is also moved to this site. A large celebration in March, coincides with Hobro Laserteknik's 10-year jubilee and Hobro Rustfri Procesteknik's 20-year jubilee.
Together, the group now has 4,500 m2 of production and warehousing space and close to 40 employees. There continue to be more appointments of staff.
2019: Peter Østergaard sells shares to Head of Assembly Torben Østergaard Frandsen and Production Head, Peder Juul Pedersen. As at 1 January 2019 they own 49% of the shares in Hobro Rustfri Procesteknik.
2020: Certification under EN/ISO 3834-2. More than 18,000 hours spent on producing scrubbers for ships. Decision taken to invest in better production facilities.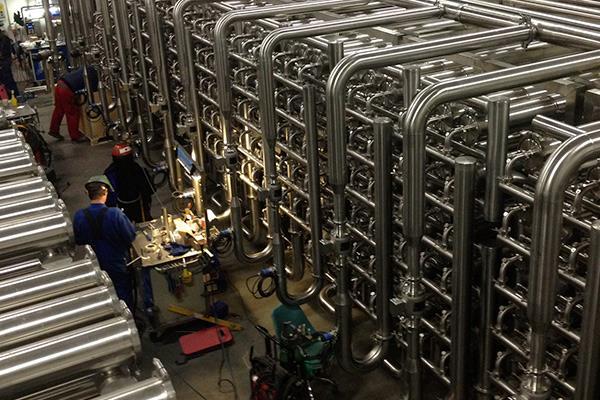 2015: We built the worlds largest membrane filtration unit.